When I grow up I want to be just like Stan Lee!
This past Friday afternoon I got to see and listen to Stan Lee the former President and Chairman of Marvel Comics.
Stan is currently 91 years old, although you would never know it.
He couldn't wait to get up on stage and take questions. His energy and enthusiasm for his work, his life and his fans was outstanding.
One person even asked him "If this was your last night on earth what would you say to all of us?"
Stan's Answer: "Good bye!"
This is just one example of his humor that was on display that day.
He couldn't tell us details about his latest cameo for the next unreleased movie that is coming out sometime in the future, only that it was great, and he was great in it. Here's the kicker he filmed it last week.
Stan Lee Loves His Work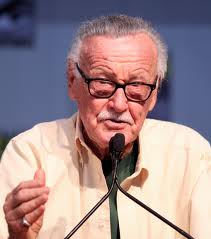 This man is still working and loving it at his age. He did not retire although he easily could.
He is still enjoys the Q&A sessions even though you can tell he has answered almost every question at least once before. He was looking forward to signing autographs over the next couple of days. And joked about not having the time to look at some of the comics he was being asked to sign, because he no longer has time to read them he is so busy.
His story about how the character Spiderman came to be was insightful and humorous at the same time. Asked by his publisher to come up with another superhero character he needed an idea. That idea all started with an annoying fly walking on the wall, and him thinking wouldn't it be neat if a superhero could climb walls after a bit of trial and error he settled on the name Spiderman, which his publisher hated when he first heard the concept. In a comic line they were killing off, he stuck in Spiderman in the final issue. When it sold like hot cakes – you guessed it the publisher said that was a great idea he and Stan had for a new character.
When asked what his superpower would be if he was a superhero he answered "Lucky", because a lucky person could dodge a bullet, and win a lottery.
My boys and I have flushed out this concept of his lucky superpower a bit. He can transfer some of his luck to others just by touching them. He only has so much luck and once it runs dry it must recharge; when he is out of luck he is extremely unlucky. He received his superpower from an ancient dying Leprechaun that he found at the end of a rainbow in Ireland.
The reason I want to be Stan Lee when I grow up is I want to be that excited about life and having fun doing what I am doing as he is. I found him to be a very inspiring role model.
On November 12th, 2018 – The great Stan Lee passed away. We have lost one of the best story tellers and character creators ever.
I am so happy I got to meet him at FanExpo 2016.