Congruities
The harmonious actions of
Johnny Bauer Goalie, Toronto Maple Leafs
I recently had the opportunity to witness the congruities  of behavior at there best.
Attending a holiday dinner recently we where pleasantly surprised by the appearance of Johnny Bauer – the goalie for the Toronto Maple Leafs the last time they won the cup back in 1967.
For those that don't know – they didn't wear goalie masks back then.
After signing autographs and taking pictures with everyone, he sat down at our table for dinner.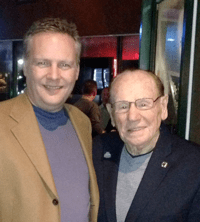 He graciously answered all the questions about hockey that he was asked. These questions where all over the time line from his time playing up to the events taking place today.
Johnny clearly demonstrated his knowledge of the game of hockey and the business of hockey.
During dinner he asked for the score of the Leaf's game that was going on that night.
I was happy to report the Leaf's were up one to nothing. They actually ended up winning that game that night.
This was one of the many demonstrations of the congruities of his behaviors.
He was a Leaf through and through and has a deep love of the game and appreciation for those that shared his interest.
The high light of the night for me was when I got to ask Johnny, "What was is a funny story from your time playing?" This is my favorite question of someone like him.
Johnny said, "We used to play practical jokes on one another some funny, some not so funny."
He continued, "This one time I had bought a new pair of loafers for sixteen dollars." (a lot of money for a pair of shoes in the sixties)
"I wore them into the change room, got changed went out and practiced with the team.  When I came back after practice I went to put on my new shoes and I found out they were nailed to the floor!"
You could tell this still ticked Johnny off after all these years, but he could laugh about it.
Another one of his congruities was when Johnny moved his left hand I realized that he was wearing a Toronto Maple Leaf's watch.
Again demonstrating that he is a true Maple Leaf and true ambassador for the game of hockey and the Maple Leaf's organization – forty-six years after winning the cup!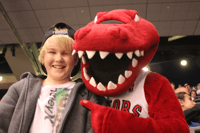 To me this was an incredible example of lifetime commitment to the thing you love!
Until next time, Keep Discovering your Natural Abilities!
P.S. I would love to tell you about meeting the Toronto Raptor mascot, but I have been sworn to keep his identity secret!
P.P.S. That is my son with the Raptor – I am behind the camera 🙂